The second way is more progressive. Drag-and-drop email builders are lifesavers. You do not need design and coding skills since you have a collection of hand-crafted modules right at your fingertips and an intuitive playground to let your imagination run wild.
16 Best Email Design Examples
Email marketing is exactly that source which instantly provides the income and generate leads. The expenses that were spent for email marketing will be paid off greatly. Statistics reveal that by 2020 the number of users who use emails as a communication source will pass the benchmark of 3 billion people worldwide.
A lot of email marketers even believe that emails are better to outreach people than social medias. There is no more simple way to bring your brand recognizable as to send the series of welcome emails. If you own a startup it's the best decision for you to start the email marketing campaign immediately.
What actually designers do before they start their own email design? Of course, they search for the inspirational samples that may bring many fresh ideas how to make the design in the best way. Competitive analysis and industry analysis take not the last part in the design process.
Three Main Types of Email Design
Each email campaign requires its type of email design. For example, if you want to send a personal letter from the CEO, you can use plain text email; however, if you're going to promote best-selling products, you certainly can't do without rich HTML email.
Plain Text
There are two main disadvantages. First, it lacks a wow factor. There is no impressive hero area or interactive features that will make it stand out from the crowd. It is just a simple, plain dull digital sheet of paper with text.
Second, it is challenging to play marketing tricks since everything is on the surface. All you have in your arsenal is just text and simple formatting that makes it hard to push customers in your direction.
Rich HTML Email Design
Rich HTML email design looks exactly like a mini landing page. It has a unique structure, images, coloring, beautiful typography, and other extravaganzas. They are made with HTML and CSS. The main pros of this type are:
There are two main disadvantages. The first one lies in an inconsistent display. Email readers, as well as browsers, may display it with some bugs. On top of that, depending on the screen size, your design can be distorted.
The way out is to stick to fully responsive and mobile-friendly solutions and use safe CSS styles and HTML structures that ensure excellent compatibility across devices, email readers, operating systems, and monitors.
There is a way out. Use an HTML email template generator, Postcards. It has a simple drag-and-drop playground with beautifully designed modules. So that you do not have to code everything from scratch. Just bring your idea to life with the help of more than 100 handcrafted field-tested units that behave great across all devices and email readers.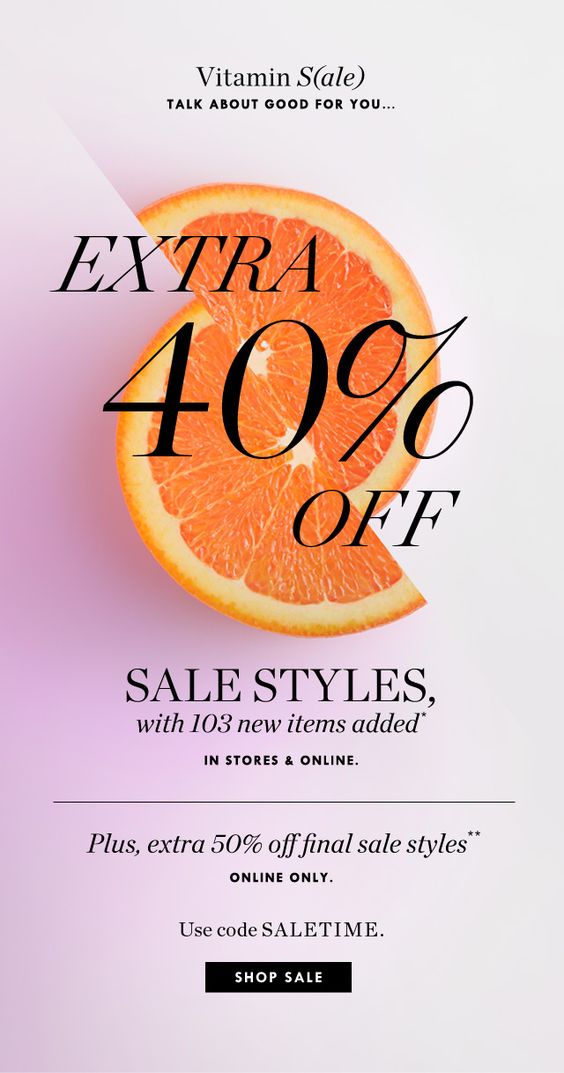 Interactive Email Designs
Interactive email design is a relatively new kid on the block. It implies the utilization of real JavaScript-based interactive details. It is increasingly impressive and engaging. Unlike other types, it has an influential wow factor that can win over any crowd. Along with AMP emails, it dares to become our new future.
However, there is a significant and barely insurmountable obstacle. For now, the majority of email readers do not support JavaScript. Therefore, you are left with just a small segment of the market that can enjoy it. The same goes for AMP. Although the framework is pretty solid and reliable, it is still not supported by all email readers.
As a way out, you can fake interactivity using animated gifs and CSS-powered dynamic effects, or you can use interactive features that are supported. Alternatively, you can send a fully interactive email provided with a browser version and a less-impressive fallback.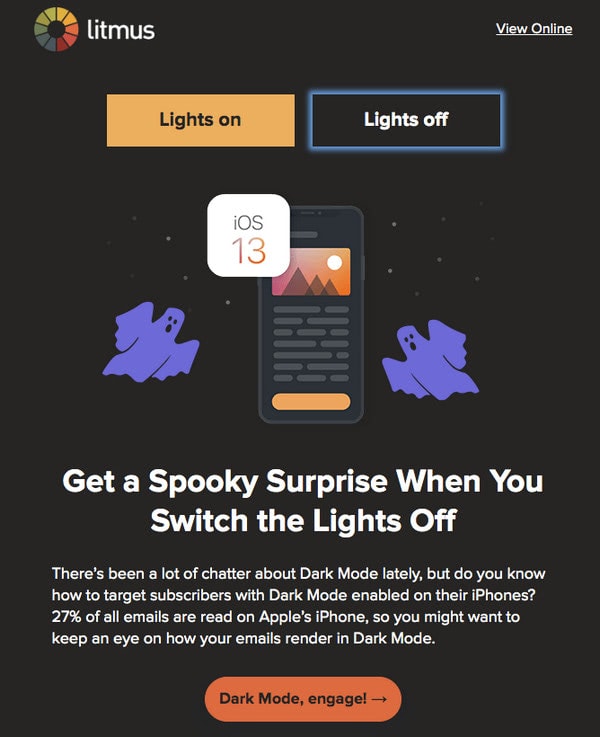 The 7 essential elements of an email
1. Header and metadata
This is the first thing that people see when they receive an email. Email marketing systems usually pre-populate the "From" and "Reply-To" parts with information you provide to your email marketing provider, but you can edit the header information of a message by simply clicking on that area in your draft.
"From" name and email address
To increase deliverability and likelihood for users to receive your emails, use an official email address — ending in your company's domain name rather than yahoo.com or gmail.com — for both the "From" and the "Reply-To" sections. When your recipients can see exactly who is sending your emails, you lessen the chances of them unsubscribing.
"Reply-To" name and email address
Frequently, company messages come straight from the top executive — but they're usually too busy to be expected to reply. It's okay to have a different email address in the "Reply-To" section of your header from the signature at the bottom of the email body. Just make sure it will still be easy for customers to interact with your brand and ask questions through email.
An effective subject line
While your subject line isn't exactly part of the email design, it's crucial to the success of your marketing message delivery. It's the first thing your recipients will see — and boring, irrelevant, or spammy subject line may mean your email won't even get opened.
Including a subject line is important for more than just enticing the recipient to click open. Emails without subject lines are more likely to end up in the junk folder. Try adding a fun emoji to your subject line, too.
2. Preheader
Also known as an introduction, a preheader is the text that often accompanies the subject line in a recipient's inbox. While not all email providers show the preheader automatically, it's a good idea to still include one, and use this as an opportunity to let your subscribers know exactly what they can expect when they open the email.
Follow the same best practice that journalists use: Start with the most important information. If you are announcing a sale or launching a new product, for example, lead with that detail to encourage people to click and read the rest.
Preheaders are not necessary to send an email, but they can help make your message crystal-clear to your readers. Preheaders can be used to create a feeling of urgency. Focus on the first five to eight words, which almost always show up in a person's inbox.
If you leave the preheader blank, it will just populate with the first few lines of your email. Depending on their settings, your recipient may see your preheader as well as the first few lines. Consider this while designing your headers.
3. Logo and colors
Email design can be a creative process, but it's important to stick with some basic best practices and to be consistent if you want to build a strong sense of who you are — your brand. You want your email recipients to get used to your brand identity before you shake things up, so make sure you have a clear set of brand colors and a nice logo to showcase in your email design.
A memorable logo
When adding your logo to your email body, be careful that it doesn't stretch out to fill the entire screen. You may need to decrease your logo's size so that your email recipients don't have to scroll down an entire page just to see what's below it. But, of course, always make sure the logo is large enough to identify or read.
You may wish for your logo to have a transparent background or a shape with your branded color scheme. Take time to edit your logo as you set up a template so that all your emails look even more professional.
Use your brand colors consistently
As mentioned above, you'll be able to more easily convey a sense of your brand identity if you use a single set of colors consistently. Choose just 2-3 colors that complement your logo to utilize in your email design, rather than starting from scratch and choosing new colors for every email campaign.
You may also benefit from using Constant Contact's Branded Template Builder. This tool will pull your logo, color scheme, and social media links from your website to use in an email template that you can save for future campaigns.
4. Images
Images can be an effective tool to include in your emails, but only if it supports your message. Often, customers or potential clients may quickly scroll past text — but they'll stop for a compelling image. What makes an email image engaging?
High-resolution
First, images should be clear and high-resolution, but not so big that it takes a long time to download. Shoot for around 1 MB in size and not larger than 5 MB. When images are too small, pictures will look pixelated and your email will seem unprofessional. When they are too big, they could take a long time for your readers' email clients to download or even worse — they could send your email to a SPAM folder.
How to integrate email design into a comprehensive strategy
Not sure if you're following design best practices effectively? You're not alone. Marketing professionals and even graphic designers often try different layouts and messaging. Sometimes the process can feel like a guessing game. The way to know what's best is through a process known as A/B testing, also known as split testing.
Let's say you're not sure which of two different email designs to use to express your message. Perhaps you're experimenting with the wording of your call-to-action (CTA) button or you can't decide between subject lines. Make sure your two designs aren't completely different — otherwise it will be hard to determine what's working and what's not.
Send one version to half your list and the other to the rest. Then, check your backend email reporting to determine which one is more successful in accordance with your goal — be it open rates, click-through rates, or signups. By analyzing your metrics, you'll have a clearer understanding of which design works best for your target audience.
Once you have a solid grasp of the basics of email design, you'll be ready to integrate email marketing into your comprehensive online marketing plan. If it sounds like too much to do, don't worry. You can use online tools like Constant Contact's content blocks and email templates to create email campaigns easily.
To learn more about the basics of online marketing and email's place in it, check out Constant Contact's The Download. The free marketing guide explains the essential digital marketing tools and strategies that small businesses can use to thrive.
Sources:
https://uxplanet.org/16-best-email-design-examples-acf0df3a3908
https://designmodo.com/email-design/
https://www.constantcontact.com/blog/email-design-101/
Email design
Good email design isn't just meant for visual appeal. It's meant to help you build stronger relationships with your audience, sell more of your products, and improve your overall return on investment in email marketing.
Email Templates and Email Designs
These templates allow for easy customization and come with an amazing number of options so you can really mix it up style-wise. Not looking to do anything fancy? That's fine too; the "out of the box" templates are beautiful and require no tinkering.
Hostinger – Multipurpose Responsive Email Template for Web Hosting Business
Charity – Responsive Email Template with Online StampReady & Mailchimp Builders
Appexo – App Responsive Email Template + Mailster + StampReady Builder + Mailchimp Editor
Weekly bestsellers
Koble | Mailchimp Business Email Template Sets
Multimail | Responsive Mailchimp Email Template Set + Builder online
SimpleApp – Email Notification Sets
Style – Ecommerce Responsive Email Template with Stampready Builder Access
2. Chamaileon
It has a WYSIWYG email builder, which does not need any coding knowledge. Simply use the drag and drop HTML editor to create email marketing templates in a few minutes. Its email generator ensures email HTML compatibility with most of the email clients.
Templated & Blocks: You get 100+ responsive templates &1000+ built-in template blocks to craft your emails. With the drag and drop editor, you put the content block in your email layout, add your text and colors, and you're good to go!
Import HTML Code: Do you have some newsletter designs that you want to recreate? Import the HTML code to the email template generator and it will automatically turn into a responsive email template, in a matter of seconds.
Multi-user Environment: Chamaileon allows for a multi-user/team environment. So you can invite team members and stakeholders to your workspace and assign to them different roles (admin, editor, viewer). This way you can train other employees in using the platform, and it would be easy since it's user-friendly.
Collaborative Editing: You can work on email campaigns with other team members simultaneously. When you make edits to your templates, others can watch you live. This feature is exclusive to Chamaileon and does not exist in other email template builders.
Don't neglect the dark mode
Below are two images showing the same email (from the Hustle) viewed in dark and light mode on a mobile device. As you'll notice, their header image has a transparent background and a delicate glow around it so that the dark logo doesn't go unnoticed.
Well-designed email from the Hustle viewed in light mode
Well-designed email from the Hustle viewed in dark mode
Sources:
https://themeforest.net/category/marketing/email-templates
https://www.sendx.io/resources/best-email-design-software
https://www.getresponse.com/blog/email-design-best-practices
Email design
Animated GIF files can get rather large the more animation, frames, and colors there are in the image. To keep them as small as possible, only animate what you need to animate, keep it short, and don't use every color in the book.
Subject Line
While not a traditional "design element" your subject line is considered one of the most important factors in getting your email opened so your subscribers can see your sweet design so make it engaging, personal, and relevant. Remember, that overuse of CAPS and unnecessary punctuation, as well as some words, can trigger spam filters so respect your subscribers and don't go there. Use these words instead.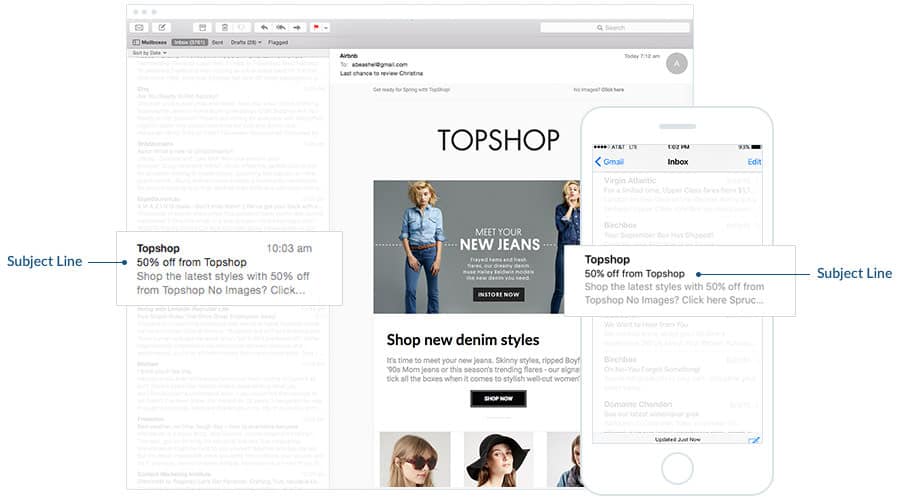 Bonus: CoSchedule has an excellent Headline Analyzer that could also be applied to email subject lines.
Is longer better?
According to data from Return Path, 65 characters seems to be a sweet spot for email subject lines, which is about 15 characters more than the average subject line. When subject lines are 61-70 characters long, they tend to get read. However, most email subject lines are between 41 and 50 characters.
What about symbols in subject lines?
The saying "a picture is worth a thousand words" may never be more true than when it comes to emoji. And emoji in email subject lines can have a major impact. Not only can they take the place of words, be attention-grabbing, and add a definite charm, they can increase your open rates. A report by Experian noted that fifty-six percent of brands using emoji in their email subject lines had a higher unique open rate. Consider us ?.
Things to keep in mind when using emoji in email
Remember: Gmail has to have some extra special considerations when using emoji. You may notice in Gmail when you use emoji in the subject line the icon will look different in the inbox view and after the email has been opened. This is due to the inbox view using the Android version of the emoji, meanwhile, the opened email view uses Google's own emoji style. While the emoji basically look the same, it's still worth testing to make sure the same sentiment is expressed in both versions.
Email Marketing Templates
Women's Day
Happy Father's Day
Easter Discount
Valentines Day Thanks
Happy Birthday
Sports Retail
Grand Opening
Reminder
Grab a Bite Invite
Store Opening
Birthday Sale
Kids Retail Discount
Treat Yourself
Happy Hour
Curated Content
Sell Your Products
Version Release
Donor Outreach
New Release
Video Marketing
Publication
Tasting Event
Marketing News
Retail Beauty
Learning Courses
Film Festival
Curated Music
Tech News
Add standard, required, and specialized links to your message
Marketing messages are delivered as HTML and therefore support hyperlinks. Some types of links provide access to special features that are hosted by Dynamics 365 Marketing, whereas others can simply be standard links to content anywhere on the web. A subscription center link is required before any commercial message can pass the error check and go live, but other links are optional, so you can use them only as needed.
URL: You can add standard links to any text content by highlighting the link text and selecting Link on the text toolbar. You can also add link URLs to many other types of design elements, including images and buttons. When your message goes live, Dynamics 365 Marketing replaces each link with a unique redirect URL that targets your Dynamics 365 Marketing server and identifies the message recipient, message ID, and the destination you specified for the link. When a contact clicks a link, Dynamics 365 Marketing logs the click and then forwards the contact directly to the URL you specified.
Event, Teams check-in, marketing page, or survey: These links go to an event website, Teams check-in, marketing page, or a survey. You can add them as text links in a text element, or as colorful call-to-action buttons or images. To create a button, drag an event, survey, or landing-page element to your email design and then configure which item the element should link to. To create a text link, select some text in a text element, and then use the personalization feature.
Subscription center (required): All marketing commercial email messages must include a link to a subscription center. A subscription center includes mailing lists available from your organization, including an option for contacts to opt out of all marketing emails. Contacts might also be able to update their contact details here. Dynamics 365 Marketing includes a standard subscription center, which you can edit to contain your subscription lists and to reflect your graphical identity (you can also create additional pages to support multiple subscription options, languages, or brands).
You can add a subscription center link to your page or email manually by highlighting the link text and selecting Link on the text toolbar, and then using the personalization feature to select the subscription center URL from the content settings.
Forward to a friend: This type of link opens a form that contacts can use to forward a marketing email to their own friends or colleagues by entering recipients' email addresses. It's a good idea to include this type of service for your contacts because messages forwarded by using the forward form are counted correctly in your email results and analytics (messages forwarded by using a contact's local email client forward feature won't be registered in Dynamics 365 Marketing, and all message opens and clicks performed by the recipients who were forwarded the message will be credited to the original recipient). A forward-to-a-friend page ID can be included in each set of content settings, but none is provided out of the box, so you must create a forwarding page and add it to your content settings to use this feature. You add a forward-to-a-friend link to your page by highlighting the link text and selecting Link on the text toolbar, and then using the personalization feature to select the subscription center URL from the content settings.
View as a web page: This link opens the marketing email message in a web browser. Some recipients will find this useful if their standard email client is having trouble rendering the message. You add this link to your page by highlighting the link text, selecting Link on the text toolbar, and then using the personalization feature to select the view-as-webpage URL from the message object.
Sources:
https://www.campaignmonitor.com/blog/email-marketing/the-really-good-guide-to-email-design-bonus-checklist/
https://www.benchmarkemail.com/email-templates/
https://docs.microsoft.com/en-us/dynamics365/marketing/email-design